Want more gains from prohormones?
Then you're in the right place.
Because I'm going to show you the strongest prohormones that work similarly to steroids.
The best part? All of these prohormones are considered to be the best to date. 
Check out our PCT guide to help get you through the post cycles.
And our on-cycle support guide will help optimize organ function.
(For our favorite estrogen blocker ingredient, check out this Arimistane guide)
Some strong estrogen blockers include 1-Andro and Epiandro.
And our best deals page sometimes feature great deals on PCT, prohormones, and organ support.
Let's get started:
This post may contain affiliate links, meaning when you click the links and make a purchase, we receive a commission.
Prohormones Buying Guide:
You're here to make gains…
By now, you think you've tried everything.
You're training hard, eating right, and it's been ages since you've seen any real progress.
Now you probably have tried different things and taken your time to assess your past performance to improve future performance, and maybe even adjusted your diet as it may not be the best.
The last thing you want to do is go for a prohormone as that can get you on a path that can be very difficult to get off of.
And if you've considered SARMs then you know there's plenty of options to choose from before choosing the hardcore path of prohormones.
Prohormones can be very risky but the rewards can be amazing if it's done right.
With the right stack, you can absolutely break through walls of plateau's like never before.
But again, this category of supplements is only for those who really need to take their physiques to the next level.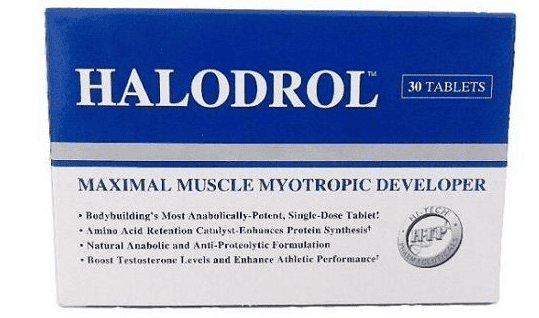 Assuming you know what you're doing and have done your research, then go on and check out these top 10 prohormone supplements.
Otherwise, stick to a solid pre workout, maybe even consider a natural plant-based steroid supplement or our list for laxogenin before looking at these prohormones.
Remember, this category is very gray-area like, and it was hard enough to rank them in a top 10 style as they differ in strength and are not for everyone. 
Do your research and avoid these supplements if you are a beginner or under 25 years old and most importantly, ask your doctor and get approval before using any supplement.
You can also stack a prohormone supplement with a natural anabolic like Laxogenin and epicatechin. 
Make your own pre workout by buying stimulants in bulk from BulkStimulants like DMAA and DMHA.
What Are The Types Of Prohormones Available?
These are the popular prohormone compounds available on the market.
The ones that convert to testosterone:
4–androstenedione
4-androstenediol 
1-DHEA (1-androsterone): converts t 1-testosterone
And these convert to nortestosterone:
19-norandrostenedione
19-norandrostenediol
Best Prohormone Stacks For Beginners and Advanced Users:
Remember to use a PCT, and an on-cycle support supplement as stacking prohormones can be very harsh on the organs and on your hormone system. 
Reviews are published and shared on this page.
For beginners:
For advanced users
Best for both advanced and beginners:
One interesting anabolic that is making this list is Monster Plexx (check out the stack here). 
Another option is the LG Science Bulking Kit, this is one of the most advanced prohormone stacks and the reviews will give you an idea of what kind of results to expect.
For more muscle building stacks, check out this list. 
You can read our review on Sapogenix here.
Are Prohormone's Safe?
Generally, they are safe but like any supplement, using too much or for too long can result in harsh side effects. 
These are oral supplements that interact with your hormones, and some of these have worse side effects than others. 
Each product we listed have a rated for side effects.
Low meaning there's little to no side effects, mild means there's some side effects but it's manageable, and harsh is the worst and that's where even with on-cycle supplements, it get's risky and hard on your organs / hormone system. 
Following the direction of the prohormone, cycling, and using a PCT / on-cycle can help minimize and reduce the side effects.
What Are The Side Effects of Prohormones?
The effects of prohormones, even the harsh ones, should subside after ending your cycle. 
But again, this process should involve a PCT and an on-cycle support supplement. 
Check out these two articles:
The side effects can vary but generally, anything that can suppress your hormones (i.e. testosterone), can mess with sleep, elevate cholesterol levels, organ damage, hair loss, acne, oily skin and more. 
Recommended Prohormone Cycle and Dosage
Every compound is different. 
The general rule of thumb is that the smaller the recommended dose, the stronger the prohormone will be. 
Generally cycles will last anywhere from 4 to 8 weeks. 
More is not always better because once you come off, your natural hormone system will be shut down (depending on the prohormone) and you'll take some time to return back to normal. 
Most people will advise to staying at 3 cycles or less per year, and we think this is good advice. 
You'll want to spend anywhere from 4 to 12 weeks for post cycle therapy after your cycle, depending on the harshness of the chemical and how you feel after. 
Is PCT Necessary?
If you weren't taking prohormones, we'd still recommend looking into a PCT or a testosterone boosters as they contain vitamins and minerals that most men are deficient in.
When you take a prohormones, they not only shut down your hormone system but they suppress them after the cycle. 
So if you're deficent in these minerals and vitamins, it'll be that much harder for your body to return back to normal. 
Check out our post cycle therapy guide here. 
By not taking a PCT, your risking body and organs as it'll be more likely to retain water, you'll likely gynecomastia, and your prostate is likely to enlarge. 
When you're using prohormones, your estrogen levels may increase, especially after the cycle.
A good PCT supplement will help reduce estrogen levels and may help your hormone system boot back to normal quicker. 
The best on cycle support supplement is coming up…
Best On-Cycle Support: Defend by Huge Nutrition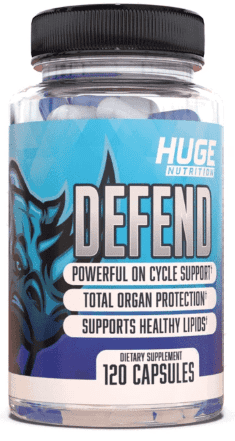 When you're taking something as strong as these prohormones, it's recommended to use a on-cycle supplement for complete protection, as well as a PCT like this one.
Defend is an excellent choice as it contains 7 strong and fully dosed ingredients that will help protect and strengthen your organs.
We talk about how Defend is better than your other choices for cycle support here.
It starts with a big 1 gram milk thistle extract and this ingredient has been used to protect against liver damage for years now.
The active ingredient here is Silymarin and it is an excellent antioxidant.
Various studies show it's protection against toxins in the liver and it's one of the ingredients that you should always see in a cycle support supplement.
Another crucial ingredient to have is NAC, N-Acetyl-Cysteine, which helps detoxify the liver and can even reverse and treat damage done to the liver. And some research shows it can also improve liver function.
The rest of the ingredients have various benefits from being anti inflammatory to helping aid stomach digestion and treat high cholesterol while improving the lipid profile.
Defend and it's profile of ingredients are important to have during a cycle.
Huge Nutrition is also a great source of supplements as their supplements are fully transparent, from their Wrecked pre workout to their plant-based natural steroid supplements.
They also have a PCT stack for optimal testosterone production and cycle support.
Use coupon code FITFREK for 10% off.
Huge Nutrition has excellent shipping options, including free international if you order $100 or more.
You can see more on-cycle supplements here.  
CHECK IT OUT
The Future of Prohormones
Prohormones have proven to be an effective way to increase muscle mass.
Supplement companies are continuously coming out with new blends, and they sometimes use new designer compounds, but this can be risky since the long term health effects are unknown. 
This is why you need to stick to a short cycle of 4 weeks, twice, max 3 times a year. 
There's no reason to risk your health over a few pounds as the short term harshness of prohormones isn't worth the trouble for the months of possible side effects that you may endure. 
This is why we keep recommending Sapogenix, and the similar legal steroid supplements that are available. 
These are super potent anabolics but have zero side effects.
If you have any questions, feel free to leave a comment below or contact me.