You've set yourself path to make gains.
You train hard, eat, sleep and repeat. 
When you train at high intensity, you lose essential nutrients like zinc and magnesium. 
In fact, if you're deficient in these minerals, your testosterone drops and you will be setting yourself up in a bad position.
Transparent Labs makes supplements that are not only backed by science but have fully disclosed and transparent labels.
From PreSeries Bulk, to their monstrous Mass Gainer protein, Transparent Labs has built quite the selection of supplements that are fully transparent, free of colors, flavoring and sweeteners.

They are at the top of things when it comes to fully packed and high-quality supplements.
With their ZMO formula, they've taken a different approach that makes this formula completely unique and high quality.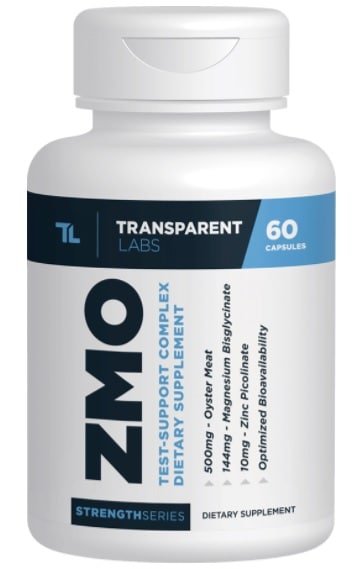 This testosterone supporting supplement contains zinc, magnesium and oyster meat extract.
ZMO is the first ever ZMA type of supplement to contain oyster meat extract and it has some interesting benefits for muscle and strength building. 
ZMO by Transparent Labs Ingredients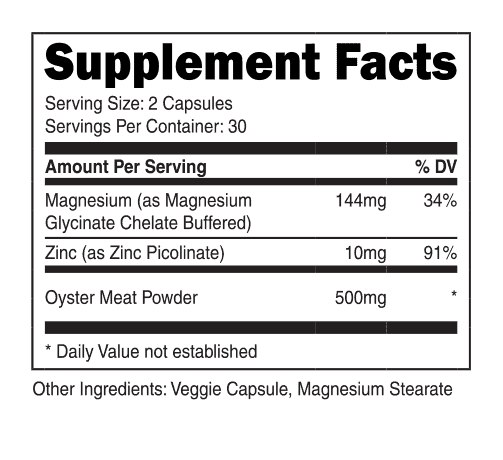 Traditionally, ZMA type supplements contain zinc, magnesium and vitamin B6.
There are many forms of zinc and magnesium but the most bioavailable kind is zinc picolinate and magnesium bisglycinate (or citrate).
Most ZMA supplements contain affordable but less bioavailable forms like aspartate.
Luckily, ZMO has both zinc picolinate and magnesium bisglycinate.
The one ingredient that separates this ZMA type of product is that it contains oyster meat powder.
Let's dig in further.
Oyster Meat Powder (500mg)
This is an ingredient that you've probably never seen in a supplement, let alone in a ZMA supplement.
If you're not a fan of the salty and slimy ocean bivalve, you'll appreciate pill form here.
Oyster meat is known to be as an aphrodisiac, but it is included in this formula for a wide range of benefits from being a rich source of zinc, magnesium and other minerals.
There are ongoing studies for oyster meat having potential benefits for athletes such as enhancing immune system function and endurance.
All in all, oyster meat contains 59 trace elements, omega oils and amino acids.
It's the complete package and an excellent way to get as close to whole food sources of vitamins and minerals as it's what your body was designed to absorb.

Magnesium Bisglycinate (144mg)
There are many forms of magnesium but most ZMA products contain the cheapest, and least absorbing forms like magnesium aspartate.
Magnesium Bisglycinate is much more bioavailable, thanks to glycine's ability to increase solubility.
It is an important mineral when it comes increasing athletic performance and enhancing health.
This form of magnesium is a non-laxative form so you won't have the runs after taking this.
Magnesium plays many roles in the body but it is mostly popular in maintaining and facilitating testosterone production, increases insulin sensitivity and it also helps with sleep quality so it'll help with recovery.
This mineral is also great for reducing blood pressure and anxiety, both of which are easily elevated with pre workouts, stress and more.
While there's only 34% of the recommended daily values by the FDA, you get the rest from your diet or buy bulk magnesium citrate powder to get the rest.
Zinc Picolinate (10mg)
This form of zinc is one of the best absorbing kinds there is.
Zinc Picolinate is a highly bioavailable form, and like magnesium, it is essential for optimal testosterone production.
The harder you train, the more likely you are to be deficient in zinc.
Supplementing with it has been proved effective and will help maintain vital functions like proper utilization of protein and increasing metabolism.
Zinc also provides a wide range of benefits like reducing stress, maintaining thyroid function as well as increasing muscle recovery and strength improvements.
There's 10mg of zinc in here, which is 94% of the recommended daily value, which is more than enough even if you don't get any zinc from your diet (which you should be).
Dosing
Final Words
With ZMA proving to be one of the essential supplements to have as an athlete and bodybuilder, there's no going wrong with including oyster meat.
Transparent Labs has hit the ball out of the park with ZMO and has made it one of the best ZMA-type supplements out there.
No other ZMA supplement contains high quality forms of magnesium and zinc, it is a no brainer to get hooked up with ZMO since the forms used are highly bioavailable.
You'll want to use our coupon FITFREK for 10% off, though it is still not the cheapest ZMA supplement out there, it is certainly one of the higher quality ones and is well worth the price.
It makes a good stack when if it 's combined with a healthy diet and a pre workout like Lean or Stim-Free.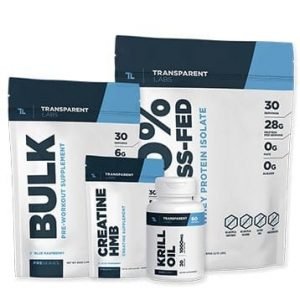 Ready to Go Oyster for Enhanced Performance?

With ZMA being a staple for bodybuilders, TL's ZMO is the best you can get and for the price, you're getting what you pay for here.